• Jannika Moye (PhD student) awarded for scientific talk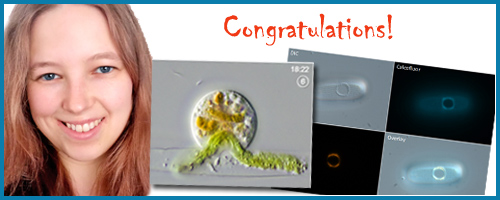 The prize for the best research talk at the annual meeting of the German Society of Protozoologists (virtual via zoom) was awarded to Jannika Moye (PhD student). In her talk "Revealing the role of carbohydrate-active enzymes in microbial protoplast feeders by transcriptome-informed cell biology", Jannika presented our newest results about the activity and localisation of endocellulases in the algivorous flagellate Orciraptor agilis.
New DFG-funded project: Diversity of vampyrellid amoebae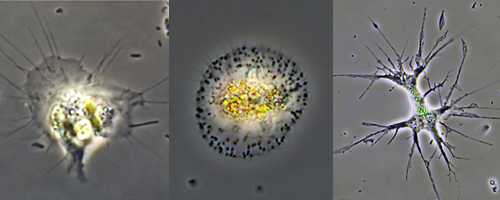 In January 2021 we started our new research project "Exploring the hidden diversity of widespread predatory amoebae of the order Vampyrellida (Rhizaria)", which is part of the Taxon-omics priority programme of the German Research Foundation. Over the next three years we will explore the vampyrellid amoebae of diverse ecosystems with classical techniques (cultivation, microscopy) and high-throughput sequencing techniques (environmental sequencing). See Research for details.
• Film crew from National Geographic visiting
For more than one year we collaborate with nature film-makers to document the secret life of unicellular microbes in unprecedented quality. The results of this exciting collaboration of university research and film industry will be released by National Geographic, presumably in 2022.
• Anna Busch (PhD student) awarded for best presentation by German phycologists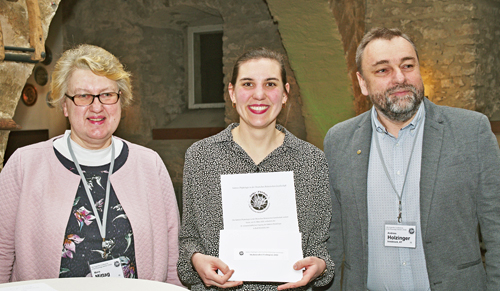 The phycological section of the German Society for Plant Sciences ("Sektion Phykologie") awarded Anna Busch for an outstanding presentation about her Master's thesis. Anna presented her results about "A UV-inducible sunscreen pigment found in the extracellular mucilage of aerophytic green algae (Zygnematophyceae)".
• Excellent research talks by Justin Teixeira Pereira Bassiaridis and Anna Busch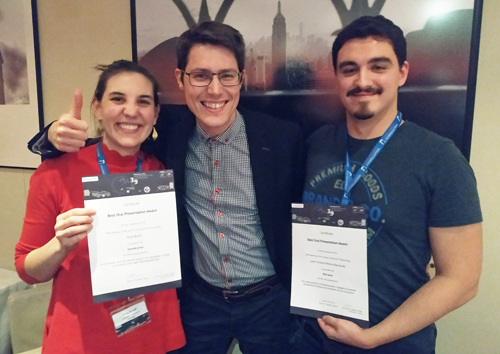 The prizes for the two best research talks at the annual meeting of the German Society of Protozoologists in Kaiserslautern were awarded to Justin Teixeira Pereira Bassiaridis (Bachelor student) and Anna Busch (PhD student). Justin presented the results of his Bachelor's thesis about the feeding strategies of vampyrellid amoebae, while Anna talked about a UV-inducible sunscreen pigment in conjugating green algae.
• Anna Busch (PhD student) awarded for excellent scientific poster by the German Society for Plant Sciences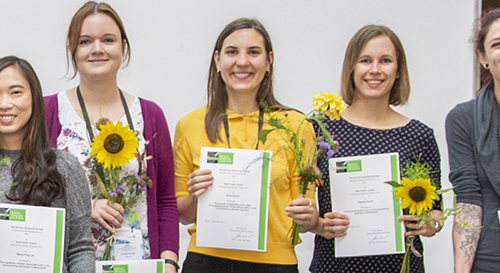 At the International Plant Science Conference 2019 (15.-19.9.2019) in Rostock, Anna's contribution was among the ten best scientific posters. Anna Busch presented her research about a so far unknown sunscreen pigment in the mucilage of terrestrial green algae.